This is the oddest kind of post for me to write, since I don't normally comment about products too much. It occurred to me tonight, out of the blue. It was a lazy, rainy Sunday. The kids were goofing around, doing their own thing, Jeff was watching a football game, and I was playing around in the kitchen. I love these rare Sundays. The bad weather kept us indoors and we were just content. I felt like cooking (big surprise). I had already baked several trays of oatmeal chocolate chip cookies; but because it was the afternoon, I needed to think about dinner. I had done the grocery shopping for the week already, and I knew there was a roaster in the fridge ready to go. Thank God, I had the pan I needed to get the job done.
And that made me think.
I bought that roasting pan on my own. Jeff and I were recently married and living in a one bedroom apartment in Brooklyn. We had registered for all kinds of things; but a basic roasting pan was not one of them. Why would I think that far ahead? I barely knew how to cook. The day I needed a roasting pan, I had to buy one on my own from the Fulton Street Macy's in Brooklyn and drag it home on the subway all the way to the 84th street stop in Bay Ridge. If you know Brooklyn, you'll understand how heavy that bag became.
For those of you registering for your weddings, here's my updated list of things you really need. For the record, Jeff and I have been dating/married for almost 19 years.
1. China is nice but overrated. Instead, register for a decent set of basic white plates/bowls/salad plates that come from a company likely to continue the same basic design in the future. I say white because it's interchangeable. And white goes with everything. You want to get fancy, splurge on sparkly chargers and glassware depending on the season.
These are cute, from Crate and Barrel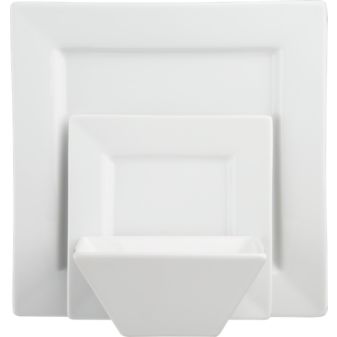 They're cheap, replaceable, and a simple style - so if Crate and Barrel suddenly decides to go under, or decides white plates are so yesterday, you can find some other company to get a replacement plate without spending a fortune.
I've also learned, from years of cooking and entertaining, that those white plates are the best for highlighting the presentation of the food. And they look elegant on the table. You can go simple or fancy, depending on the occasion.
2. Good pots. Roasting pans, sauce pans, saute pans. I love my All-clad. I bought it myself, and it has lasted me years. Do yourself a favor though and hand-wash. Something about the chemicals from dishwashing liquid messes up the exterior of the pots and gives it a mottled look.
Get at least two saucepans and one decent medium size saute pan.
And get a decent roasting pan. One day you will need one, and they're heavy. Get one with an interior rack to keep the chicken off the bottom. It comes in handy sometimes.
3. Good knives. The one sensible thing we registered for was decent knives. Dear friends bought us a set of
Henckels
and they are invaluable.
Do yourself a favor and don't slice your finger the first time you host friends over to watch "The Sopranos," or whatever hot show is appearing on HBO this year. This dates me doesn't it? What's even worse is we don't have HBO anymore. I still remember the incident well. There I was in the teeny little Brooklyn kitchen we had, slicing cheese or something, not paying attention. Sure enough, nicked a chunk of finger. Friend walks over and sees me clutching my hand looking shell-shocked and says:
"What happened!! Did you see a cockroach?"
This, to me, was a moment straight out of the NY Times Metro Diary.
4. A decent salad bowl. I still use the one we registered for. It is basic and serviceable, and I can stick it in the dishwasher!!
This
one's
pretty too.
5. Bed linens. My mom bought us a lovely set of
sheets
from Bed, Bath and Beyond. They're a gorgeous Egyptian cotton that gets softer every time I wash it.
Simple right? Keep your registry list short too; it will get bought out fast and then everyone else can just give cash. I'm just kidding! Well, kind of. Although I think the cash thing might depend on your geography. It's pretty common on the East coast. Other's tell me cash gifts are unheard of where they are from.
Oh well. China it is then.....